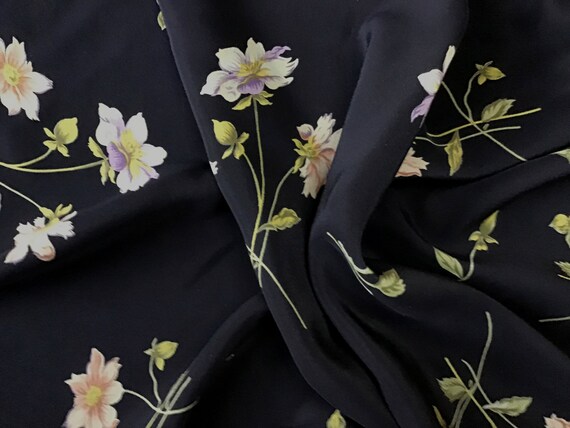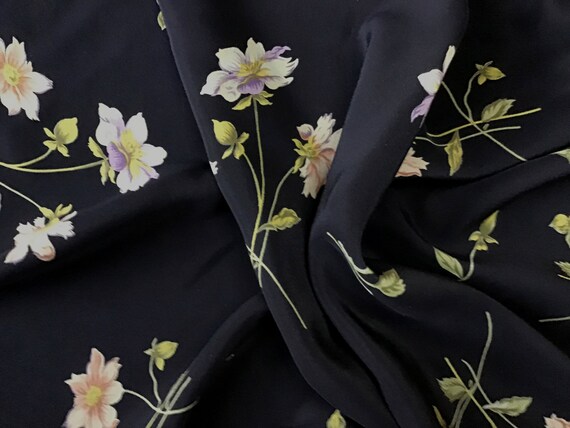 etsy
Soft Dark Navy Silk Crepe with Very Subtle Lavender and Pink Cream Flowers and Olive Green Stems
Dynamics of prices
Want to know when the price of this product will come down? Click "Follow the price" and we'll let you know!
Description
This vintage silk crepe has a dark navy background with pale lavender and pink flowers. The olive green stems are sprinkled throughout the pattern. The largest flower is approximately 2 inches/5 centimeters. This has a beautiful and typical Victorian/Edwardian color palette. The crepe could be used for doll clothing for many sized dolls as the largest flower is barely 2" in diameter. It is still very delicate both in appearance and feel. Drapes beautifully. This is unused fabric and in excellent condition. I suppose you could call it a remnant however it is quite large as such. Size: 30" wide triangular 7" at narrow end; 27" wide. Clean and ready to sew. The following information is for our crochet items. We love giving others new info! Crochet is a process of creating fabric from yarn, thread, or other material strands using a crochet hook. The word is derived from the French word "crochet", meaning hook. Hooks can be made of materials such as metals, woods or plastic and are commercially manufactured as well as produced by artisans. Crocheting, like knitting, consists of pulling loops through other loops, but additionally incorporates wrapping the working material around the hook one or more times. Tunisian crochet, also known as Afghan crochet, is a type of crochet that uses an elongated hook, often with a stopper on the handle end, called an Afghan hook. It is sometimes considered to be a mixture of crocheting and knitting As such, some techniques used in knitting are also applicable in Tunisian crochet. One example is the intarsia method. Tatting is a technique for handcrafting a particularly durable lace constructed by a series of knots and loops. Tatting can be used to make lace edging as well as doilies, collars, and other decorative pieces. The lace is formed by a pattern of rings and chains formed from a series of cow hitch or half-hitch knots, called double stitches, over a core thread. Gaps can be left between the stitches to form picots, which are used for practical construction as well as decorative effect.
Product reviews
0
There are no reviews of this product yet. If you have bought this product, be the first to share an opinion on it!