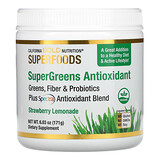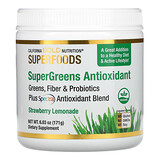 iHerb
Amazing Grass, Green Superfood, добавка для снижения кислотности и выведения токсинов, 240 г (8,5 унции) - iHerb
Promotions and discounts for the purchases

Free shipping

25 promo codes
Dynamics of prices
Want to know when the price of this product will come down? Click "Follow the price" and we'll let you know!
Description
Зелень на каждый день 12+ очищающих суперпродуктов С очищающими травами и специями для нормализации уровня pH и выведения токсинов Одна мерная ложка. Размешайте. Сияйте. 30 порций Цельнопищевая добавка Без глютена Без сахара На растительной основе Кошерный продукт Органический состав сертифицирован CCOF. Без ГМО и других вредных ингредиентов Натуральный источник энергии Выведение токсинов Нормализация кислотности Здоровье пищеварения Поддержка иммунитетаДобавка для снижения кислотности и выведения токсинов Green SuperfoodЭтот продуманно созданная смесь сочетает выращенную на ферме зелень, снижающие кислотность, а также цельные фрукты и овощи и более 12 очищающих ингредиентов для здорового выведения токсинов, чтобы вы каждый день чувствовали себя отлично. 7 снижающих кислотность трав Куркума Семена фенхеля Петрушка Цедра лимона Имбирь Перечная мята Алоэ Корень одуванчика Чеснок Кайенский перец и другие... Гарантия качества Amazing GrassМы выращиваем и собираем органическую и насыщенную питательными веществами зелень на нашей семейной ферме в Канзасе, обогащаем ее высококачественными растительными ингредиентами, получаемыми от фермеров-единомышленников по всему миру.Выращено честно. Собрано ответственно. Создано для наслаждения.
Product reviews
0
There are no reviews of this product yet. If you have bought this product, be the first to share an opinion on it!