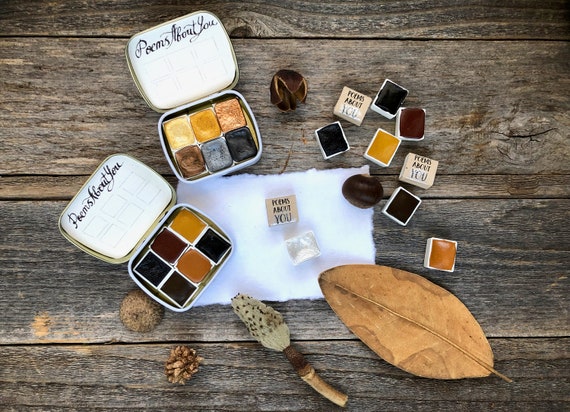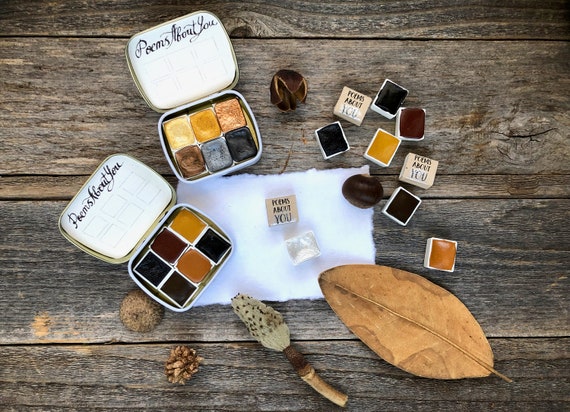 etsy
NEW: Make Your Own Watercolor Set + Get Free Tin Box for the Set of 6 - Green, Ochre, Purple, Blue, Black, Red - Handmade Paint
Dinámica de precios
¿Quieres saber cuándo bajará el precio de este artículo? Haga clic en «Seguir precio» y le informaremos!
Descripción
Make your own watercolor set! Please read details below! Mix and match any of available colors to expand your palette or start a brand new palette. All colors are in half-pans. If you order 6-11 half-pans from this listing, I will enclose a small tin box (fits 6 half-pans) for convenient storage. (Orders of 5 or fewer half-pans come without a tin box. Message me or add an order comment if you want to include colors from other listings in the set. I do not automatically enclose a tin box for orders of 6+ half-pans from other listings.) If you order 12+ half-pans from this listing, I will enclose a medium size tin box (I have square and rectangular medium boxes available, you can let me know which one you prefer; note, rectangular one fits 13 half-pans, square one fits 12 half-pans). If you order 20+ half-pans from this listing, I will enclose a tin box that fits 20 half-pans. If you order 25+ half-pans from this listing, I will enclose a large tin box (fits 28 half-pans). To order multiple colors, add single colors from this listing to your cart, one by one. You can add colors from other listings to your set! If you are mixing and matching colors from other listings, please add an order comment mentioning that it is one set and that you need a tin and/or magnets. (Tin and magnets are not automatically enclosed with listings that do not have tin/magnet option.) Feel free to message if you need a recommendation on paints combinations - I paint with my watercolors all the time (see my Instagram) and can make a suggestion! The colors are highly pigmented, saturated, deep, and rich. These are professional grade watercolors. All of these colors blend well together and produce incredible color combinations! You can create a great palette extender if you are looking to enhance your browns, reds, yellows, or blues! Each color can stretch from subtle to intense, which allows endless blending options! These watercolors were made in a small batch with a use of natural and organic materials. The pigment is combined with organic gum arabic, organic honey, organic essential oil (preservative), and vegetable glycerin. There are no other additives, fillers, or contaminating colors, just pure single pigments. Draw landscapes and plants with pigments that are from nature! This set will make an excellent gift for an aspiring or professional artist or calligrapher who values unique and high-quality materials. I update this listing regularly to add new colors and new photos! See all sets here: https://www.etsy.com/shop/poemsaboutyou?ref=condensed_trust_header_title_sold&section_id=25057242 See individual paint listings with additional pigment information here: https://www.etsy.com/shop/poemsaboutyou?ref=seller-platform-mcnav&section_id=25067291 Feel free to message if you have any questions! :-) First Class Shipping within the US is free!
Reseñas de productos
0
No hay reseñas para este producto todavía. Si ha comprado este producto, ¡sea el primero en compartir sus impresiones!