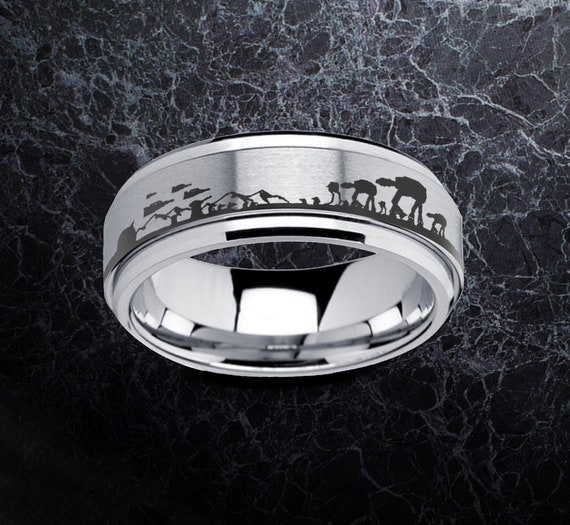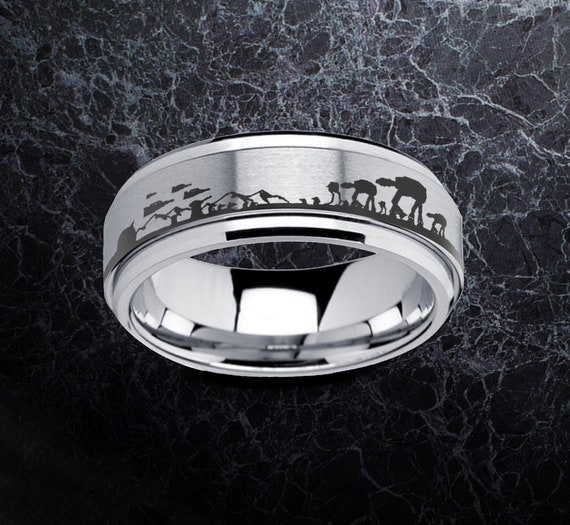 etsy
Star Wars Wedding Band, Star Wars Hoth Battle Scene Black Tungsten Spinner Fingerprint Ring, Fidget Spinner Tungsten Ring- 8mm
Dinámica de precios
¿Quieres saber cuándo bajará el precio de este artículo? Haga clic en «Seguir precio» y le informaremos!
Descripción
ALL OF OUR RINGS ARE SOURCED IN THE USA :] This is a beautiful engraved Star Wars The Hoth Battle Scene ring. The battle scene goes around the entire center of the ring and repeats the scene or the ground depending on the size of the ring (if we can fit the scene twice, we will do this, or else the ground will simply go around). This ring is perfect for any Star Wars fan! ABOUT OUR ENGRAVINGS Our engravings are 100% permanent and are produced with a state of the art laser engraving machine. The color of our engravings are 100% natural, we do not use any ink or paint in our engravings. ABOUT TUNGSTEN CARBIDE Tungsten Carbide is an extremely scratch resistant metal and is known for durability. Tungsten Carbide ranks a 9/10 on the Mohs scale of hardness, ranking it above almost all other materials and right under diamond! Please message us any custom imagery before or after you order. LIFETIME SIZE EXCHANGE All of our rings are backed by a lifetime sizing exchange warranty. All size exchanges/replacements come with a small fee of $30 for each ring replaced. All you have to do is contact us and ship the ring back to us. International shipping rates apply for all size exchanges. If you are choosing the "+Inner Text" option, please feel free to add your inner text engraving request in the personalization below along with your font of choice :)
Reseñas de productos
0
No hay reseñas para este producto todavía. Si ha comprado este producto, ¡sea el primero en compartir sus impresiones!