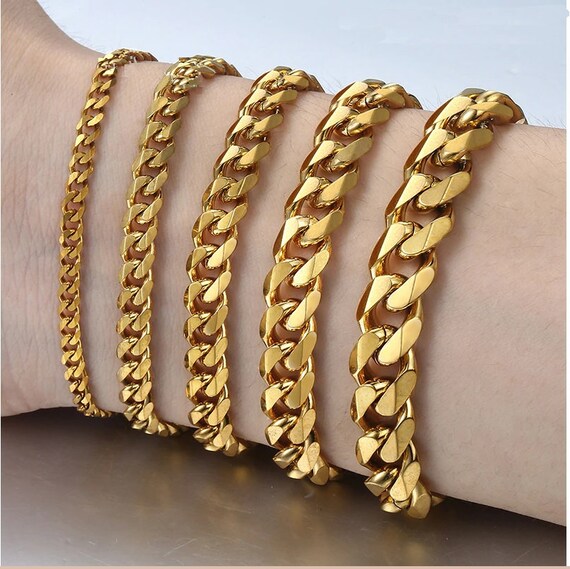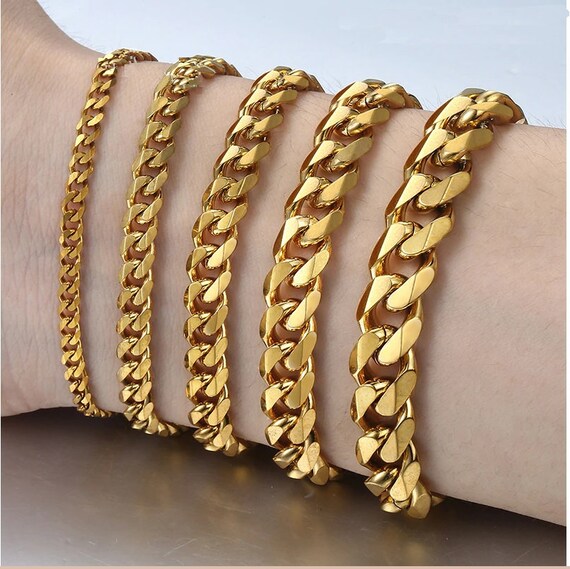 etsy
ThicK Chain Bracelet-Cuban Chain Bracelet- Mens Chain Bracelet, Chain Bracelet Woman-Statement Bracelet-#ICN-26
Dinámica de precios
¿Quieres saber cuándo bajará el precio de este artículo? Haga clic en «Seguir precio» y le informaremos!
Descripción
Thick Chain bracelet-Chain bracelet Men-Chain Bracelet Woman-Link Chain Bracelet-Cuban Chain Bracelet-Gold Chain Bracelet-Silver Chain Bracelet-Chain Bracelet Gold- Chain Bracelet-Silver-Chunky Chain Bracelt ♦ Finish: Gold. Silver ♦ Material: Stainless Steel ♦ Chain Width: 3mm, 5mm, 7mm, 9mm ♦ Bracelet Length: 7 Inch, 8 Inch, 9 Inch, 10 Inch, 11 Inch HOW TO ORDER🛒🛒 ♦Select your favourite Finish and chain widrh from 1st drop down menu ♦ Choose your bracelet Length from the menu Stylish, minimalist, fashionable, personalized letters and names. This spectacular necklace can be a perfect gift for you and your loved ones. A beautiful piece perfect for giving to a special someone or as a gift for yourself. [ P R O C E S S I N G ∙ T U R N ∙ A R O U N D ∙ T I M E] ♦ All items are custom made to order. Our turn around time is about 6 - 10 business days. This can change during peak seasons. Please check our home page for the most current times. ♦ Rush your order: Please contact us to see if we can meet your deadline. You can also expedite your shipping in the drop down menu upon check out. This does not change production times (see above) Customize your Old English Font name necklace or Name Necklace! Personalize your necklace with any word, phrase or letter that you like! *Please note that this item is made to order! The processing time for this piece is 3-5 weeks.* [CARE TIPS] ♦Do n't wear it when sleeping,exercising, or doing physical sport activity ♦ Do not wet at the pool, spa or the beach. ♦ Keep away contacting with perfumes,body oils and other chemicals. ♦ Gently polish with a soft , lint free cloth. Please do not use a metal polishing cloth. ♦ Do not use chemical jewelry cleaners. ♦ Keep to dry and cool places. ♦[Additional tags] ♦ Wedding band Pinky Ring, pave iced out hip hop letter necklace, Pink bubble crystal curb cuban miami chain men's hiphop necklace,Bubble Letters Pendant Necklaces, rap rock dancer jewelry gift, Custom Bubble Letters , tennis bracelets, Birthday gift, wedding earrings, engagement earrings, anniversary gift, anniversary rings, anniversary celebration, Hoop Earrings, Custom Hoop Earrings, infinity Hoop Earrings, Personalized Hoop Earrings, Customized earrings, Customized Hoop Earrings, engagement ring, Graduation Gift, Gift for Her, necklaces for women, custom name necklace, boho jewelry, nurse gift, Choker necklace, Statement necklace, Jewelry, Custom Name, Custom Name Bamboo Earrings, Name bamboo Earrings, Bamboo, Zircon Bamboo Earrings. PERSONALIZED,Personalized Anklet,Custom Anklet,Anklet,Date Anklet,Silver anklet,Gold Anklet,Numbers Anklet,Anklet Jewelry,Name Anklet,Customized Jewelry,Jewelery,Jeweley,Custom Jewelry,Name Jewelry,Gift,Gift for Her,Bridesmaid Gift,Bridesmaid,925sterling silver,Offer jewelry,Mom Gift,Custom Name,Name Necklace,Name Jewelry,Custom order,Old English Anklet,Old English jewelry,Handmade Jewelry,Jewelry Making,Dainty Jewelry,Dainty Anklet,925 Silver Anklet,Bridesmaid Jewelry, Arabic Name Necklace, Infinity Arabic Necklace, Arabic Word Name Necklace, Custom Arabic Name Necklace, Hoop Name Earrings, Name Earrings, Earrings Name Earrings, Infinity Name Earrings, Dainty Name Earrings, Hoop Infinity Earring, monogram & name necklaces, custom name necklaces, bar name necklace, personalized bar, name jewelry, customized, English necklace, lace bar necklace, infinity necklace, personalized, gift for her, wedding gift, engagement gift, name necklace, necklaces, silver name necklace, gold name necklace, love name necklace, initial gold ring, initial gold bracelet, English gold necklace, letter pendant, gold jewelry, silver jewelry, hoop gold earrings, hoop, anklet, custom, silver, gold, jewelry, name, personalized, old English, hindi, Arabic necklaces, Arabic family necklace, Arabic family pendant, name ring, name earring, earrings, customized name earrings, personalized name earrings, bar name ring, name rings, name jewelry, customized name necklace, infinity rings, infinity earrings, gift for him, personalized gift, customized gift, name gifts, initial jewelry, initial name necklace, English name, engagement gift name necklace, wedding necklace, custom name, custom ring, custom necklace, custom, bridal gift, bridal ring, bridal necklace, bride to be, bride jewelry, wedding ring. Name Jewelry * Dainty *
Reseñas de productos
0
No hay reseñas para este producto todavía. Si ha comprado este producto, ¡sea el primero en compartir sus impresiones!