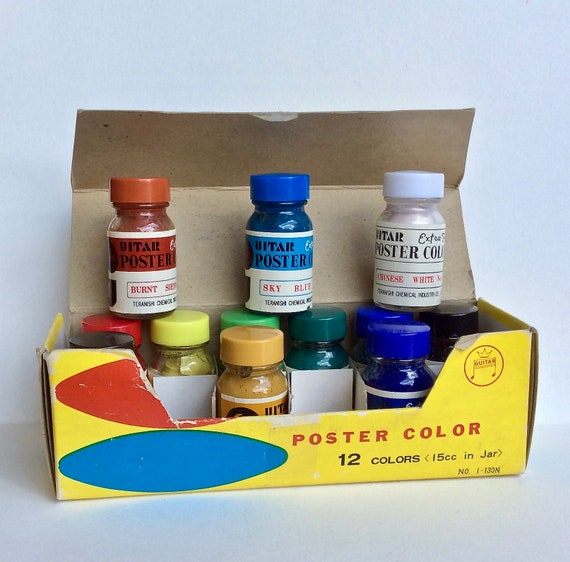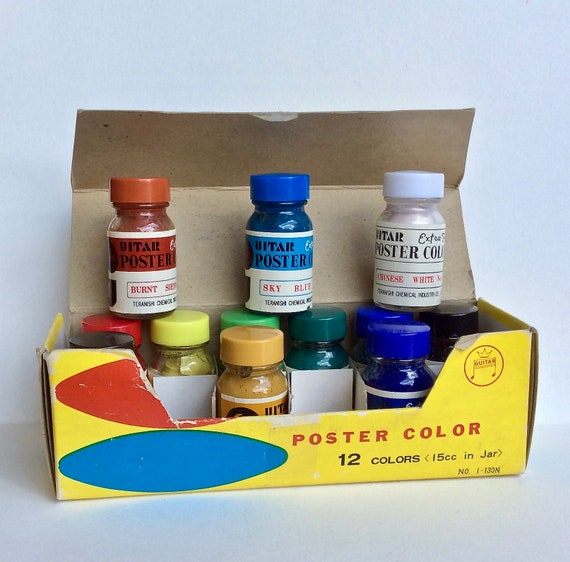 etsy
Guitar Poster Color Extra Fine Paint Set / 12 Jars / Vintage Art Craft Supply / Made In Japan / Teranishi Chemical Industries Co.
Dinámica de precios
¿Quieres saber cuándo bajará el precio de este artículo? Haga clic en «Seguir precio» y le informaremos!
Descripción
Guitar Extra Fine Poster Colour Paint Set. Original manufacturers box containing 12 jars of assorted gouache or tempera paint colors. Carmine No. 5 -Vandyke Brown No. 17 Burnt Sienna No. 6 -Yellow Ochre No. 16(partially used) Ch. Green Light No. 7 -Ivory Black No. 15 Viridian No. 8 -Ultramarine No. 11 Sky Blue No. 9 -Chinese White No. 1 Cobalt Blue No. 10 -Lemon Yellow No. 2(partially dried) Condition: with the exceptions noted above, each jar and paint inside is in great shape. I tested a few, so you will notice a small toothpick size hole in a couple of paints. Back left corner of box is torn, some hand written prices on top and bottom of box, and a piece of scotch tape on the front of box. Quantity/Size: 1 dozen 15cc jars Manufactured: in Japan by Teranishi Chemical Industries Co., LTD. Circa 1960s-1970s GENERAL USE. SUPERVISE CHILDREN UNDER 12 YEARS OF AGE Sold in as is/as found condition, Vintage. Previously owned This listing is non-Refundable/Non-Returnable **Please look closely at the photos and use photos as a reference. Variations in light and time of day are factors to consider while viewing images as well as monitor display discrepancies. Please message me with any questions regarding this listing. Also, keep in mind, when purchasing vintage items that they have had a life before reaching you. Often there are small marks/imperfections, scuffs and signs of wear UNLESS the item is described as MINT CONDITION. Jewelry is not authenticated unless otherwise stated/and or documentation provided. I do not clean, sanitize and/or wash any item listed. I leave that up to the buyer. This piece(s) does not come with certificate of authenticity. Nor do I offer a 100% guarantee on above listings origin, longevity, collectibility, or durability, past, present or future value.
Reseñas de productos
0
No hay reseñas para este producto todavía. Si ha comprado este producto, ¡sea el primero en compartir sus impresiones!